Male-Friendly Wedding Favors and Gift Ideas
As you know or you may be finding out, it takes a lot to prepare for a wedding. It equally takes a lot of time and money for friends and family to come celebrate with you. This is why wedding favors are a nice expression that you truly appreciate and love having them there with you on your wedding day.
A key thing to note is that not everyone will love the same gift. To be precise, the guys might want something a bit different from what the girls might fancy.
So what do you get them? A truck-load full of beer? Well, not really…
There are a lot of ideas you can select from, even customize. If you're looking for guy-friendly wedding favors and gift ideas read on for 8 fun suggestions that the men will actually use!
Personalized Drink Stirrer
ETSY.COM: While a truck-load full of beer will be overkill, a personalized drink stirrer sporting each guy's name will be a gift that will last beyond the weekend. You can have this set at each guy's place setting, with the gold finish complimenting your wedding style.
You can have party-inspired words form the writing or be a bit more personal and have each guy's name engraved on it.
Ginger Ray Kraft Matchbox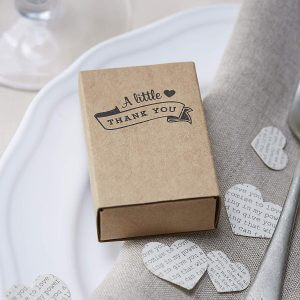 AMAZON.COM: If you are having a rustic themed wedding, then this matchbox will be a great idea for a wedding favor to give your male guests. They are also budget friendly – but be sure to check with your venue regarding their policy on open flames.
The box comes with a nice thank-you note written on top, so the gentlemen will always feel appreciated anytime they pull out this beautiful matchbox.
Magnet Letters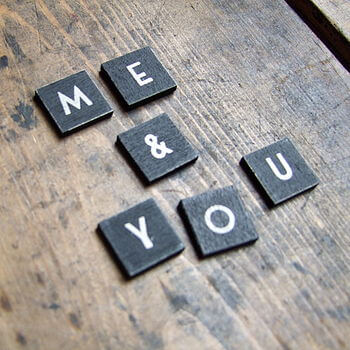 NOTONTHEHIGHSTREET.COM: There are a lot of ideas and areas where these magnet letters will stick! A great start would be at your reception on a favor table or incorporated into the place setting. These magnet letters are very versatile wedding favors, thanks to their ability to stick on important surfaces where they are a friendly reminder.
Stick them on filing cabinets, fridge doors or anywhere a magnet calls home.
And since they're designed to spell out words or names, you can get highly specific with this one for a more special touch.
Red Hot Chili Seeds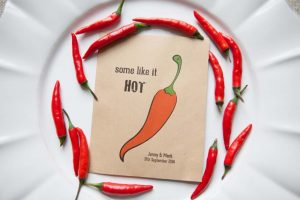 Since I grew up in the Land of Enchantment (aka New Mexico), this next suggestion is close to my heart and taste buds!
WEDDINGINATEACUP.CO.UK: You can spice up your men's kitchen by giving them this special bag of chili seeds that they can plant later. The seeds in the bag are for Jalapeno chili, one of the easiest chilies to grow.
The best part is that you can customize the bag with your names and the date/location of your wedding reminding them of the incredible time at your wedding.
Silver Effect Photo Frame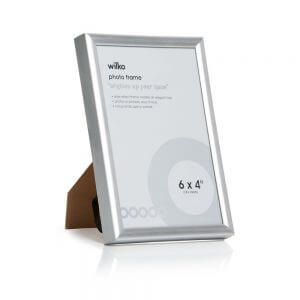 WILKO.COM: This is a beautiful and useful idea! Where will the guys keep the gorgeous photo of himself and his date at your wedding? In this silver photo frame. The frame measures 6 inches by 4 inches and is designed to not only hold photos but you can also make these work double time as place cards at each guests' place setting or a table number.
Thanks to the simplistic design, it will work well within many home decor styles and give their walls a personalized touch.
Hot Tabasco Sauce
TABASCO.COM: Before the jalapeno chili seeds grow, the boys will surely need something to keep their taste buds spiced up. A good helper for that would be hot sauce from Tabasco.
But isn't this product already branded?
Well, technically not. Tabasco allows you to add your custom name, brand, and logo to their 1/8oz mini-bottles. This makes their hot sauce a perfect choice for spicy wedding favor and gift!
Flask and Pocket Knife Gift Set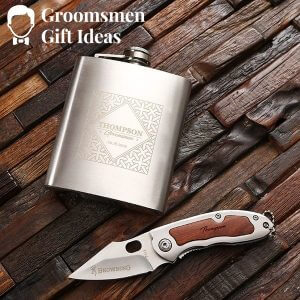 GROOMSMENGIFTSOURCE.COM: Some outdoorsy men would love a wedding favor that they can use while camping or hiking. If that describes a lot of guys on your guest list, then this item is a natural choice!
This gift set comes with a pocket knife and flask, both of which have been made out of high-quality stainless steel. You can have these items personalized with initials or names of the recipient.
Mini Glass Bottle with Cork Stopper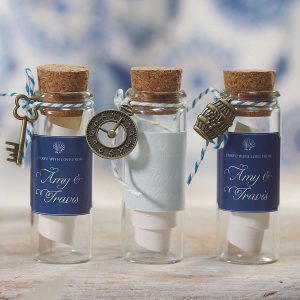 CONFETTI.CO.UK: This is a great destination wedding favor! If your male guests have limited space but you still want them to depart with a gift, then this guy-friendly small glass bottle with a cork stopper might be the ticket. Yes, it can't hold that much liquor or sand, but it can hold a lot more memories.
Customization Tip – tie a nice token at the neck of the bottle such as a mini rum drum just to spice things up. Even better, you can personalize this item to have your names, date or wedding location written on it.
Tahoe Signature of Style,