Metallics are turning up the heat in 2014.  Whether you favor gold or silver or something in between, there is a precious metal shade for you… platinum, copper, bronze, gold or silver.
Copper is a natural compliment to the fall hues, bronze looks stunning with vibrant summer colors (think of how great a bronzed, tan body looks in bright summery clothes…).  Gold always adds a richness and sophistication to the design.  Platinum brings a cool, classic antique elegance to the table while a shiny silver gives a sleek gleam.
xxx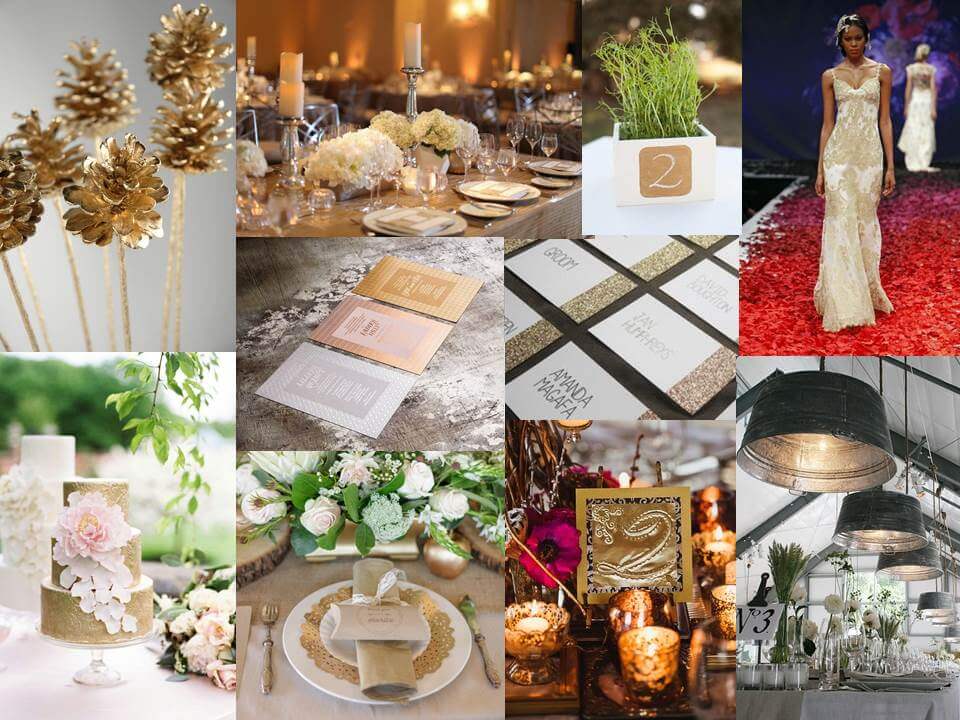 Credits: Top left to right – DetroitPaperCompany on Etsy, SterlingSocal.com, LivingWikii.com, WeddingWire.com Middle left to right – DesignandPaper.com, HooplaLove on Etsy Bottom left to right – Pinterest.com, 100LayerCake.com, TheSweetestOccasion.com, AtelierJoya.blogspot.com
xxx
It is easy to incorporate this trend into your wedding style by selecting an embellished wedding gown, a wedding accessory like a hair clip, shoe or belt with your favorite metal color or perhaps a metallic linen for your tables. Groomsmen attire isn't off limits either!  Metallic invites and glittery gold escort cards are options too.  On the table from votives, to flatware, glassware and china begged to be embellished.
There are so many ways to play with this metallic trend. Have fun with it!
Tahoe Signature of Style,
xxx

xxx
xxx
xxxxxx
x
xxx