When Scott literally dropped on one knee to propose to Maureen, she had no idea what was happening nor that everyone would be able to watch it unfold later! We give complete props to Scott for pulling off this secret proposal and it brings tears to our eyes every time we watch it!
HowHeAsked.com absolutely loved this stealth proposal too and posted their GoPro wedding proposal for all to see! HowHeAsked.com is a beautiful collection of real life wedding proposals ranging from the traditional to the unusual. If looking for wedding proposal inspiration (whether you are a boy or a girl), this is the site for you!
In Scott's eloquent words:
How we met: Maureen and I met just before Christmas in 2008 at a piano bar where she was out celebrating her friend's graduation from college that fall and I was out celebrating a buddy's birthday. She proceeded to "accidentally" knock my elbow off the bar and introduced herself. Upon hearing her name I "smoothly" replied that I loved her name, as it's my grandmother's name. We quickly found out that sharing my grandmother's name would not be the only odd coincidence we would have, from us growing up within blocks of each other and attending the same church, but different masses, to her mom rescuing and returning my dog many years prior. One week after meeting we had our first date and have been together ever since.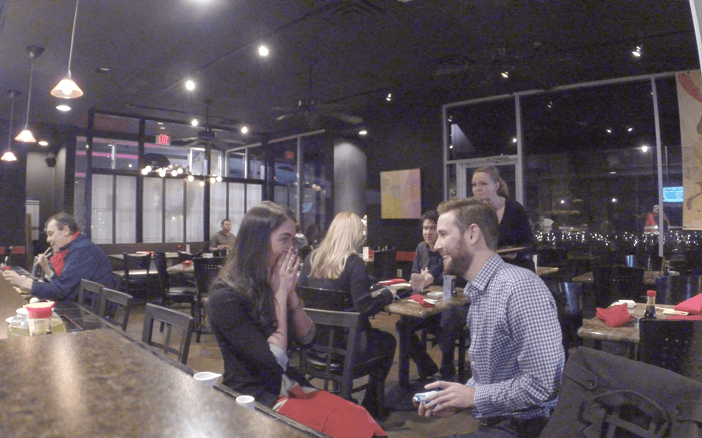 How he asked: I will start by explaining that we are not the type of couple that celebrates dating anniversaries, but as the 5 year mark began to roll around I knew I could get away with doing something for it without Maureen knowing what was coming. I decided that I was going to send her on a scavenger hunt ending in a dinner and fly my buddy in from Los Angeles, who is a cinematographer, to film the whole thing. The date was set and the flight for my buddy was bought… everything was ready to go. And then I received a phone call from Maureen who is a consultant and travels Monday through Thursday every week. She explained to me that things had gotten pretty crazy on the project and that they were going to have to work through the weekend… plan blown. At this point I had to improvise, so my buddy the cinematographer, who had flown in, helped me pick out a GoPro and set up a shot at the restaurant to capture the proposal. I continued on with the same plan, but moved it to the next weekend. Fortunately for me the next weekend was also technically the night of our first date 5 years later, so I could still operate under the auspice of celebrating an anniversary and Maureen would be none the wiser. The day began with Maureen having brunch with friends, and upon returning from brunch she came home to flowers and a scavenger hunt that was guided by me via video messages that I sent her throughout her day. The scavenger hunt ended with a car picking her up and taking her to the restaurant where we had our first date. Once she arrived I acted like dinner was the end of our 5 year anniversary celebration and continued to have a normal dinner, giving her no real indication of what was to come. On our first date at this restaurant 5 years ago one of the things we discussed was the most important qualities that we look for in people and mine was "loyalty" and hers was "honesty". So the video picks up at the end of our dinner where I explain to her that I have "broken the honesty piece" from our first date.
We have been having a wonderful time planning with Maureen and Scott and we are so looking forward to their Lake Tahoe wedding later this year!
Tahoe Signature of Style,
xxx

xxx
xxx
xxxxxx
x
xxx