xxx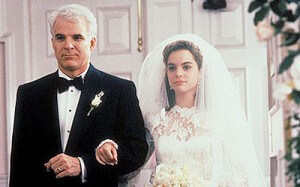 xxx
Mention Father of the Bride and images of Steve Martin come to mind, but not everyone can deal with stress and pressure by making us laugh… 
The Father of the Bride is a role that can be left out during the wedding planning process (except to keep up with all the payments).  He is expected to be experienced enough to cope with his nerves and expected to be strong enough to cope with his emotions.  Giving your daughter away can be a very difficult and bittersweet moment.  We thought we would help.
Take a moment and if you know someone in this role, pass on our advice!
1. Getting Over The Nerves
Nerves about the ceremony, speeches and toasts can be overwhelming.  Don't worry all of these nervous can be settled with a little preparation.  Make sure and make it to the rehearsal that way the only thing to worry about during the ceremony is giving away "Daddy's little girl".  Also make sure to write and practice your speech well before your daughter's big day.  A little preparation can go a long way when it comes to easing nerves.
2. Prepare for Your Speeches
Preparing your speeches in full before hand is the best thing you can do to ease your nerves, don't wing it!  For more tips on how to write a great speech take a look at MW's "Cheers Worthy Toast" post.  The Father of the Bride sets the tempo, welcomes his guests, new members of the family and speaks about his daughter while trying to not embarrass her!  Remember…Practice makes perfect!
3. Plan Your Advice
One of the most important tasks of the Father of the Bride is to pass on advice to the couple.  This advice can be in a toast, in passing, or in a letter.  Make sure to prepare what advice you would like to give the couple, many couples will remember what advice you gave them for years to come.  Remember what you've learned throughout your years and share it with them!
4. Be Ready for the Emotions
Men sometimes try and hide their emotions from the rest of the world.  Make sure and take some time with your daughter before the wedding to talk about what she means to you.  Many Father of the Brides believe that they will come up with the perfect thing to say when the time comes but never do.  By doing this you can remorse for never getting the chance to tell your daughter how you feel or be overwhelmed by emotions during the ceremony.