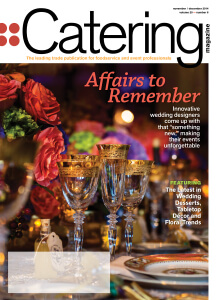 When Catering Magazine came calling last fall to find out what new innovative and emerging trends we are seeing in the wedding industry for their current issue, we were more than happy to divulge one of our favorites of the year at Merrily Wed®.
The wedding reception, whether a destination wedding or in your hometown, offers many opportunities to really personalize this portion of your wedding day. There are many different styles of receptions to choose from – plated, buffet, family style and action stations are the most common.
Our favorite new innovation actually solves a problem we have seen with the increasingly popular Family Style reception – where to put the food platters without disrupting the gorgeous tablescape? Read on as our wedding design solution is not only functional but stylish!
Tahoe Signature of Style,
xxx

xxx
xxx
xxxxxx
x
xxx