As the end of this year draws near, I have little ones on my mind.  Maybe its the tradition stemming from the Greeks of using a baby to signify the new year or more likely its my own new little baby that we were recently blessed with, but either way, I have been drawn to the cute and adorable images of the smallest members of the wedding party from weddings past.  I couldn't resist sharing a parade of photos of some of the babies that we have had the joy to see in ceremonies and hang out with at the receptions.  They sure keep us on our toes as to what they will do next!
How often I have seen a little flower girl's gaze of awe upon the bride moments before the ceremony as she is surrounded by her bridal attendants putting on the finishing touches…  This 'awe' has had many faces from curiousity to  admiration to a dreamer of when one day they will be a bride themselves.  Such is part of the circle of life, little flower girls who grow up to be beautiful brides.
xxxx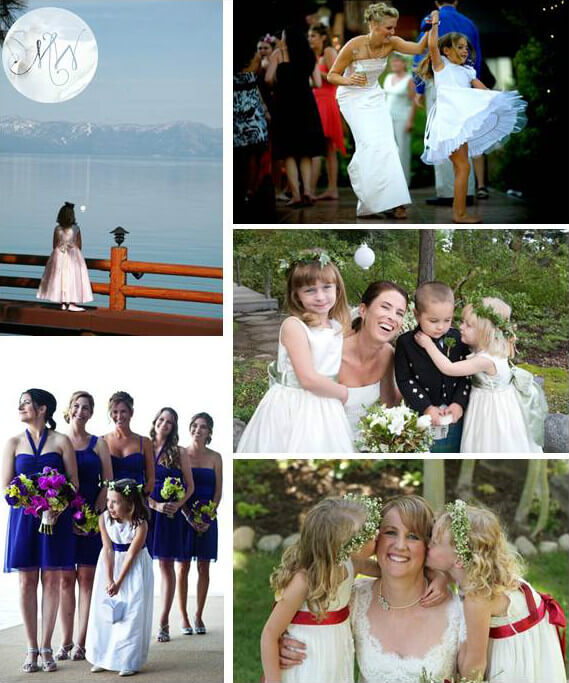 xxx
The unpredictability of little ones adds that spontaneity and character to your wedding ceremony that will always make it uniquely yours.  How we watch with holded breath, but simulatneously love, when the ring bearer decides to chuck the ring pillow or if the little ones impulsively decide to add their own dance rendition to their walk down the aisle or if they decide to stand, sit, squirm anywhere but where they rehearsed the day before…
xxx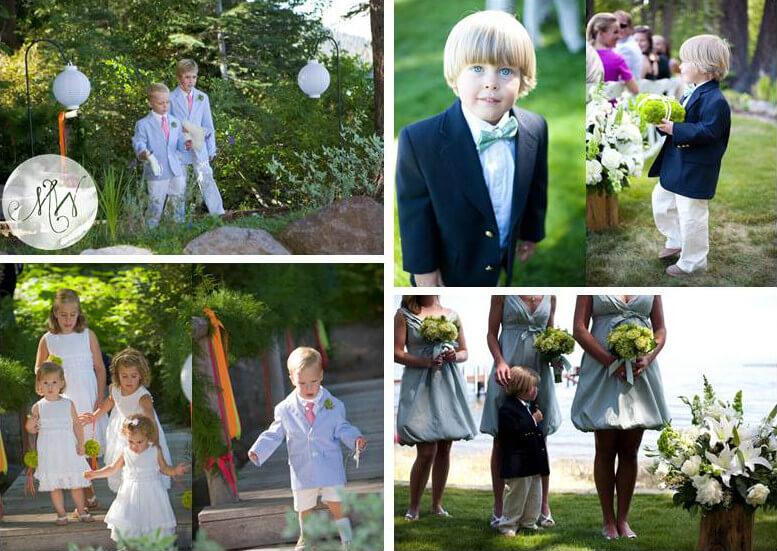 xxx
Head wreaths for little flower girls have always been a favorite and a great compliment to the floral basket.  Magical floral wands are super popular now too for them to wave their blessing of love down the aisle…  Little boys or little girls can ring a bell to capture your guests' attention – like they haven't already – announcing the bride cometh.
xxx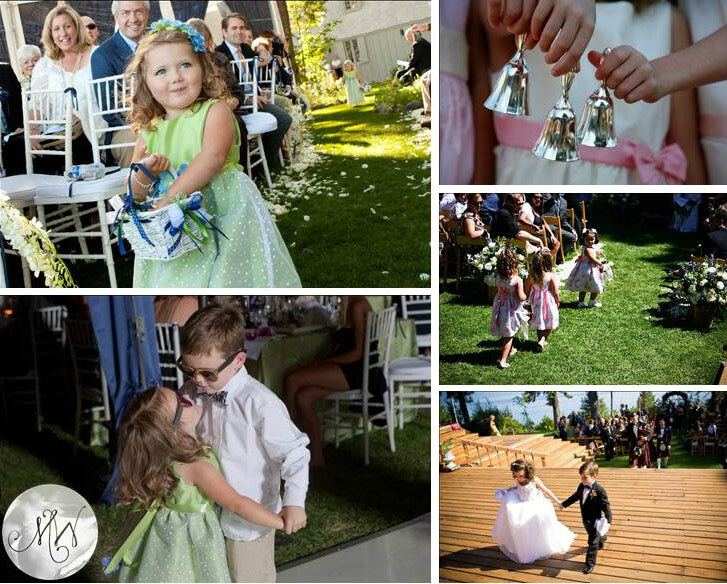 xxx
Besides ringing a bell and verbally announcing "Here Comes the Bride" – have bell ringers put a new spin on this by carrying a sign instead along with the ringing bells or go it alone with just the sign.  Don't forget the backside – room here for another message from Just Married and Thank You to be used later on in some well planned photo ops.  Clever Etsy artists have lots to choose from here. 
xxx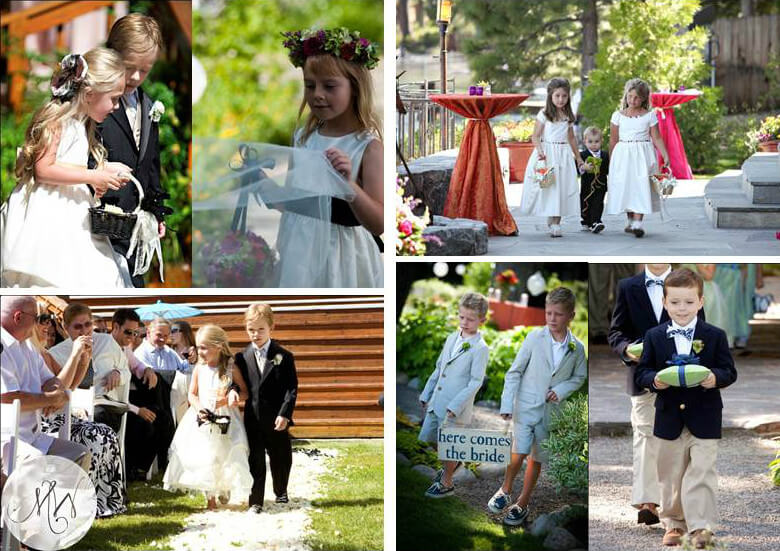 ccc
Alternative new ideas for ring bearers include using ring pillows that are anything but soft and cushy… these can range from floral embellished to a wooden box, burlap or other organic elements or even something as personalized as a skateboard with the rings tied to it as one of our ring bearers did last summer.  If you have a musically-favored little guy or gal (and no stage fright), they could even play a little ditty on their instrument as they walk down the aisle creating a whole new role for this little one.
ccc
xxx
Either way – Baby New Year or my new little baby – I am glad to relive and share these wedding moments with you starring the little ones that can not only steal hearts, but also make the forgettable unforgettable. 
Have an extra special and Happy New Year!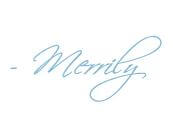 ew ideas for ring bearers include using ring pillows that are anything but soft and cushy… these can range from floral embellished to a wooden box, burlap or other organic elements or even something as personalized as a tied to it as one of our ring bearers did last summer…  If you have a musically favored little guy or gal ey xxx
xxx
xxx