Monograms have been the oldest form of identification in the world – always omnipresent for royalty, but now it seems everyone is taking pride in their initials or initials to be…   How to show these off in ways that best suit you and your style of wedding?
xxx
Ways To Rock Your Monogram
xxx
Ideas are endless here. 
In the Ceremony you can make your mark on your aisle/aisle runner, your program, bouquet wrap, altar decor, chair backs, ring bearer pillow, flower girl baskets…
In the Reception you can showcase your initials on pillows, your menu, your napkins, your cake topper, the dance floor, personalized signs, centerpiece vases, linen decor/runners, gift bags or actually create letters out of flowers or wood.  These are just a few!
For your Attire, personalized jewelry is at the top as well as lounge wear for your wedding party, personalized hangers for you, tote bags or any garment – nothing is off limits!
A very popular look in Tahoe is the woodland look but we love to jazz this up (or down) depending on the taste of our bride.  Softening the wood look with fabric and flowers is a sure hit but also unexpected elements also from nature like berries or gemstones work too.  If gemstones aren't in the budget, some great inexpensive crystals can give an unforgettable effect too. Some of our favorite woodland finds from Etsy artist BraggingBags:
xxx
Some of our favorite monogram looks from our past Merrily Wed weddings: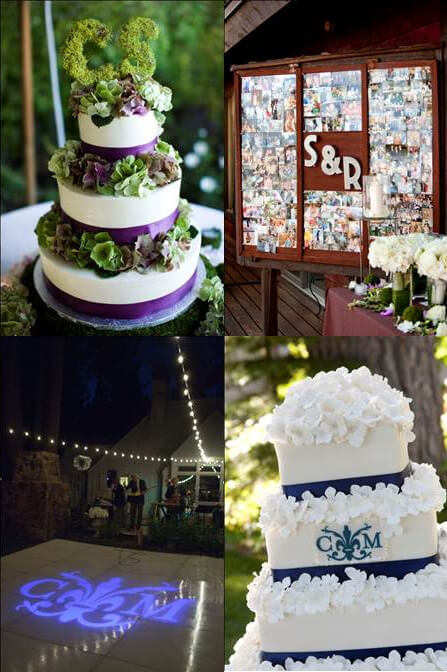 Photos courtesy of: clockwise from top – Jay Reilly Photography, Catherine Hall Studios and Zorn Photography.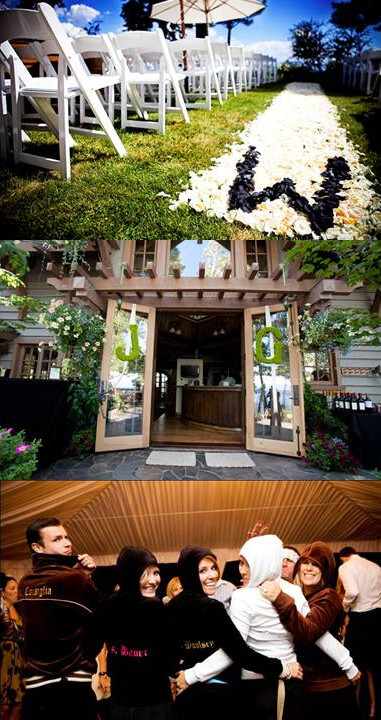 Photos courtesy of: Kendall Price Photography, Jennifer Baciocco Photography and Kendall Price Photography.
Express yourself!   There are many websites that create custom wedding monograms and logos for you.  If you are more of a DIY type, there is even a whole blog spot dedicated to helping you create your custom monogram.  It gives you a step-by-step tutorial: weddingmonograms.blogspot.