Having a few nerves about looking and feeling your best on your wedding day?  Or interested in stepping up your current workout with some pro fitness tips?  Do I have something special for you!  
I feel so fortunate to have had the chance to chat and catch up with one of my former brides – the super busy, gorgeous and talented Karen Mullarkey – IFBB pro figure competitor.  Think of Mr. Universe, and Arnold Schwarzenegger, competitions for the level she competes at. 
Karen shares some fabulous fitness and diet tips with us – just like having your own online personal trainer!   Read up and buckle down for your own bridal boot camp to tone your arms and upper body and your veil will be the only thing swaying in the breeze…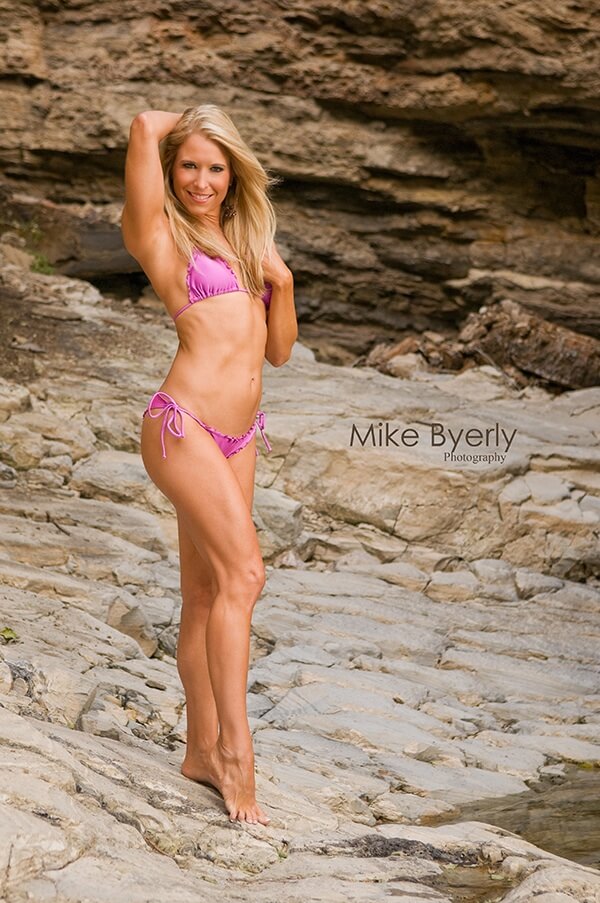 How did you achieve your current position as an IFBB Pro?
 
I earned my IFBB (International Federation of Bodybuilders) pro card in July of 2007.  I began competing in figure as an amateur in 2004. I did my first 2 local shows here in Arizona and qualified by placing third and second to compete at the National level.  I spent 2.5 years traveling the country, competing at the National level and consistently placing in the top 6.  Finally in July of 2007, I earned my IFBB pro card in New York City by placing second in my class.  That was one of the happiest days of my life because all of those years of hard work and sacrifice had finally paid off.  Needless to say, we had a great time in the city that night:)
What is it like competing on a stage?
 
Competing on stage is a pure adrenaline rush!  I still get a little nervous stepping on stage in 5 inch heels, but I think I am more taken over by adrenaline.  There is something to be said for strutting around on stage showing off your hours of time spent in the gym not to mention, all the sacrifice I had made with my diet.  When I step on stage, I make it a point to show off my hard work.  I tell my clients who are prepping for a show that it is all about ATTITUDE.  If you are not confident, it will show!
What motivates you on days that you just don't feel like working out?
 
I actually have a trainer, Ernie Villegas, who has been training me for the past 7 years.  Yes, trainers need trainers too!  It helps because I have an appointment with him 5 days a week to weight train, so I have to be there.  For those of you that are looking to get back into the gym, you should definitely consider hiring a trainer so you are forced to show up.  Trainers don't like it when our clients cancel, plus we are going to push you much harder than you will push yourself!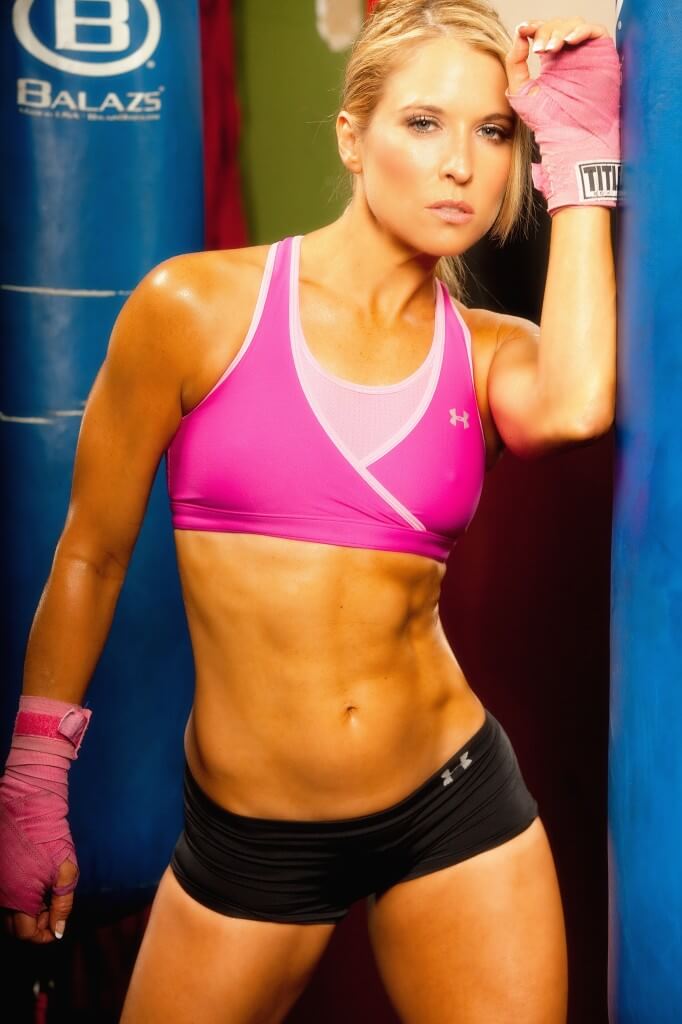 What are your Top Exercises for brides so they can look and feel fabulous in their wedding dresses?
 
I have trained several gals that wanted to get into shape before the BIG DAY!  They all wanted to drop weight and to tone their upper bodies.  Here are a few exercises that work great to tone your arms, back and shoulders……
1)  Dips
2)  Dumbbell Bicep Curls
3)  Tricep Pushdowns
4)  Lat Pull Downs
5)  Seated Rows
6)  Cable Curls
7)  Overhead Tricep Extensions
8)  Dumbbell Shoulder Press
9)  Dumbbell Side Laterals
10)  Dumbbell Front Raises
Try doing each exercise for a total of 3 sets for 15 repetitions.  Don't forget to combine your workout program with cardio and clean eating.  Diet is 80%!
xxx
xxx
What is your favorite snack that fills the void so you don't feel like cheating on your diet?
 
My favorite snack is a tablespoon of peanut or almond butter and 2 rice cakes.  Nut butters are loaded with "good" fats and will keep you full longer.  Rice cakes are packed with complex carbs and a touch of sweetness!
As a bride, what was your favorite thing about planning your wedding?
 
As a bride, I really enjoyed putting all of the colors together.  Thank the lord I found Merrily, because she was able to help me put it all together.  My husband is Scottish and wanted to wear his family tartan (kilt).  I complemented the colors of the kilt with wine colored bridesmaids dresses.  I have to say the guys in their kilts and the gals in their gorgeous dresses made for amazing pictures.  It was certainly overwhelming in the beginning, but Merrily guided me through it.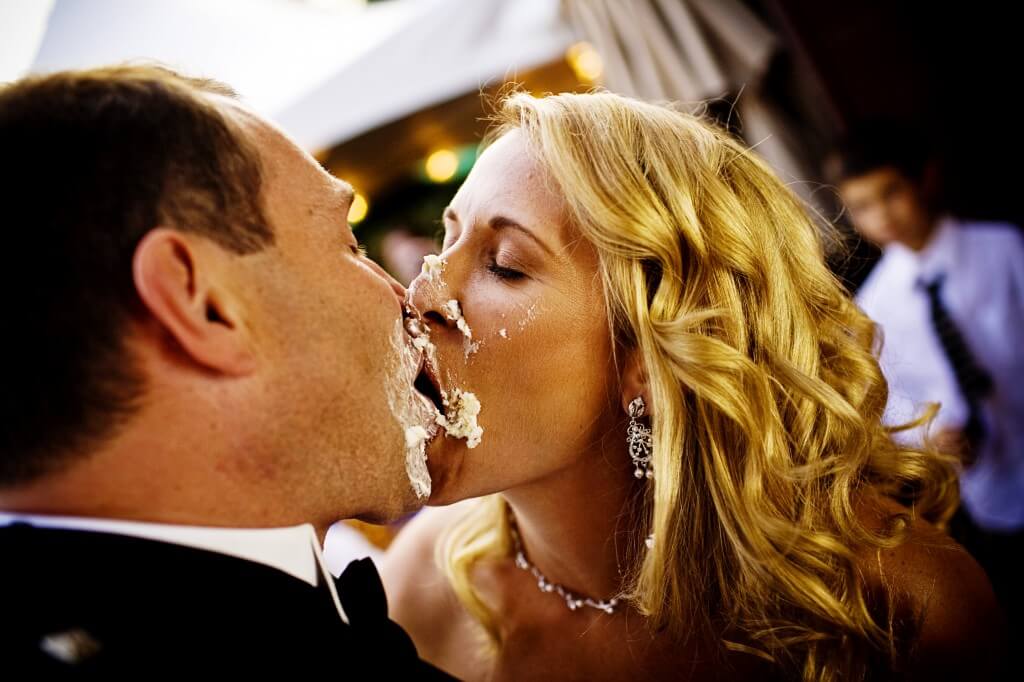 What memory or moment on your wedding day still makes you giggle?
 
My favorite memory was pushing a piece of cake in my husbands face.  Ladies, don't be afraid to go for it…..it made for some amazing pics.  Yes, he did get me back and it was certainly worth the laugh!
If you could pass on one last piece of advice to a bride, what would it be?
 
My advice would be to hire a wedding coordinator that knows her stuff.  I found Merrily by chance by doing a google search for wedding coordinators in the Tahoe area.  Out of all the ones I had contacted, she was the very 1st to call me back.  That showed me that she was on top of her game and reliable, not to mention our personalities clicked immediately.  She was able to take so much stress off my back throughout the process.  I did not have a care in the world come our wedding day because I knew she had it handled.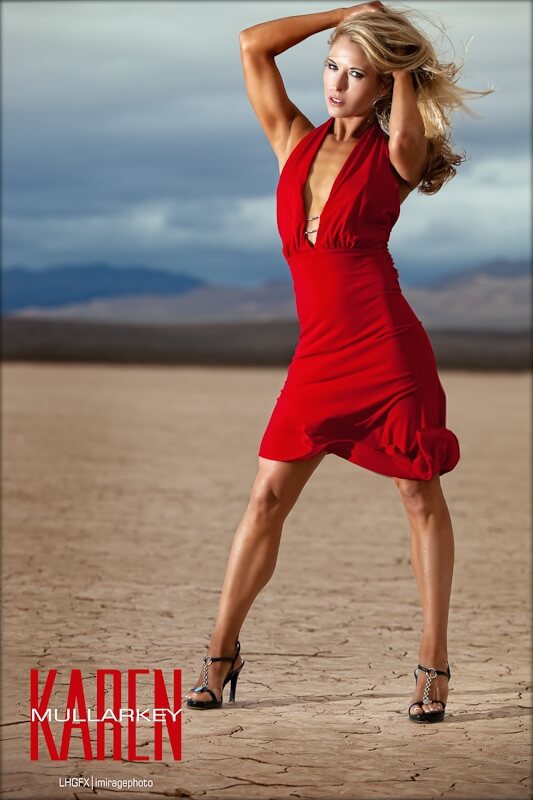 What is next for Karen Mullarkey?
Funny you should ask!   I just announced that I am leaving the IFBB and crossing over into another federation as a pro.  I am now a WBFF (World Bodybuilding and Fitness Federation) pro and will competing in my 1st competition with them in Quebec, Canada this April.  I am currently dieting for my competition and hitting the gym hard. 
I am also working very hard at my fitness modeling career.  My goal this year is to land my very 1st cover.  It would be a dream come true to grace the cover of Oxygen Magazine in the near future…..only time will tell.
Lastly, I am working hard at building my personal training business "No Mullarkey" Personal Training!  I absolutely love working with my clients and helping them reach their full fitness potential.  It is so neat to watch my clients self-esteem increase and their body fat decrease!  If you don't live in the Scottsdale, AZ area, I also do virtual training as well and you can find more info at www.karenmullarkey.com.  I would love to help you ladies get ready for your BIG DAY!
Remember….."No Excuses and that's No Mullarkey"!
xxxx
xxxx
xxxx
Thanks Karen!  Don't know about you, but I sure am motivated to hit the weights!