With all the gifts given this Holiday Season, chances are a few were a shiny engagement ring.  The Holidays and New Year's Eve are the most popular times of the year to become engaged (well, right behind Valentine's Day…). 
Once you are engaged then what?  Who and how do you tell the big news?  We know you are probably wanting to tweet it to the world but here are a few more practical PC ways for spreading the exciting news!
xxx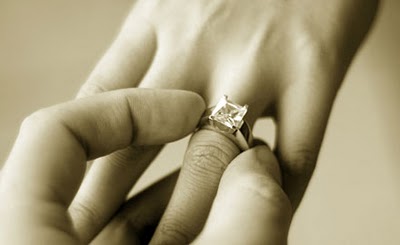 xxx
WHO TO TELL FIRST?
Parents:
Your parents should be the first to hear the big news!  Traditionally the bride's parents are told first (if the groom didn't already ask dad for her hand in marriage beforehand – very traditional etiquette) and then the groom's parents.  If both parents live nearby then you could tell them at the same time if you choose and if not, just make sure they are both told within a close timeframe so there are no hurt feelings.
Children:
If you have children, then they should be the first to know.  If the child is from a previous relationship it might take them a little while to get adjusted to the big change.  If they are from your current relationship, you will want to have your child hear it from you first and not from someone else. 
Close Relatives:
After you tell your parents you should tell your close relatives.  These should be any siblings, grandparents, and other relatives you are particularly close to.  A great time to share the big news with these family members can be over the holidays when many of these family members will be together (if they didn't happen to be present during the proposal!).
Friends:
Finally you can share the news with your friends!  This might be hard for many of you to keep from your best friends and closest confidants.  If you absolutely cannot wait, you can slip it to a few BFFs but make sure they keep it a secret until you have time to tell your immediate family.
xxx
HOW TO ANNOUNCE THE ENGAGEMENT?
Formal Announcement:
The most traditional way to announce your engagement is by mailing a formal announcement.  Be careful who you send this announcement – everyone who is sent an engagement announcement should also be invited to the wedding.  This can double as a save-the-date if you have already set your wedding date.
Newspaper Announcement:
Announce your engagement in the society section of your hometown newspaper.  Chances are you might not live in the same location as when you grew up and this is a great way to let all the people back home know of the wonderful news. 
At A Party:
By announcing your engagement at a party you can tell a lot of people at once.  This party is not to be confused with your engagement party when all of your friends are invited to celebrate during your engagement.  If you are engaged around the holidays then a holiday gathering is another great time to let your family know.  Please make sure not to announce it at someone else's event so they do not feel upstaged by your big news.
Postcard:
A more creative way to announce your engagement is to have an engagement photo shoot with your new fiancé.  Take one of your favorite photos from the shoot and turn it into a post card.  You can do this on virtually any online photo service or where you locally get your pictures developed.  On the postcard you can add a quick announcement or a more elaborate quote about love, the engagement and, if known, a wedding date.  These postcards are a fun and easy way to announce your news and are now more commonly doubling as a Save the Date!
xxx
We raise our glasses to all the newly engaged couples as they begin this magical and exciting time of planning a wedding!  Happy Engagement!